Community
am very fortunate to be part of an incredible early music community here in the Bay Area. The harpsichord community is a branch of the larger whole, and the builders are at the center of that. Each of them has contributed a great deal to our community, and all three happen to be knowledgable, talented and meticulous in their work.
Gary Blaise specializes in clavichords, Italian harpsichords and chamber organs.
Kevin Fryer builds harpsichords mostly in the 17th Century Franco-Flemish style.
John Phillips is well known for his 18th Century French, German and Italian harpsichords.
My harpsichord was built by John Phillips in Berkeley, California in 1987.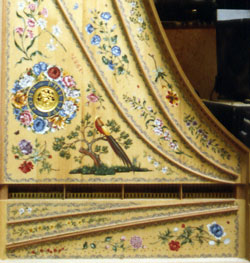 The prototype is a 1707 instrument built by Nicolas Dumont, and is one of the earliest five octave French harpsichords to have survived to the present day.
John's long time decorator and assistant, Janine Johnson, painted the soundboard and the gorgeous oil painting on the inside of the lid. Among other things, Janine makes the impeccable keyboards for John's instruments.
earsense is an interesting web site of my friend, Kai Christiansen. Kai writes wonderfully about music, including a marvelous piece on The Well-Tempered Clavier.
These are fascinating people to talk with, and generous with their knowledge and time. Check out their websites and maybe visit the shops and have a tour!
Gary Blaise Early Keyboard instruments
Kevin Fryer Harpsichords
John Phillips Harpsichords
Adrian Card Decorative Painting
Kai Christiansen and earsense